Get ready for the fruit and vegetable challenge! Over the next 4 weeks I will be completing one alla prima fruit and/or vegetable study per day. The goal is to handle oil paint more proficiently and to delve into the mysteries of the great masters. How did they create such luminosity, balance and beauty in their still life paintings? I want to find out! And, as my very first painting teacher wisely said, "Get the first 300 bad paintings out of the way, then you'll start learning how to handle paint." We can only hope that along the way a handful of the first 300 turn out to be not so bad!
Day seven: White on White with Orange Teacup and Tangerines:
Fumee D' Ambris Gris by John Singer Sargent came to mind when setting up this challenge. Sargent's beautiful figurative piece predominantly in white – cool whites & warm whites – was brilliantly executed. Today was about white on white with orange teacup and tangerines. Interesting how subtle the shadows were and how easy it would have been to overdo it, that is, make the shadows too dark. Squinting helped with this. Had a bit of fun with one of the tangerines with some juicy paint along the edge where the light caught, and adding nice thick highlights on the little white vase which helped to define its composition – high gloss porcelain.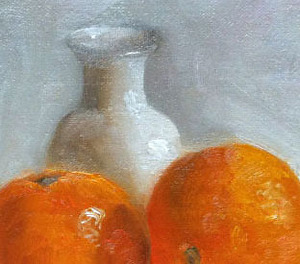 The larger white vase with the slim neck – another flea market find – had a matte finish. I would like to try this again- the white on white with a splash of color to improve on this first attempt. Maybe the composition would have been better without the slender orange teacup. It is all about choices: what we choose to include and choose to exclude.